Fabulwinter - Fimbulvetr
Seráafia/Nachfolgerin 12 / Teil 1
Ein Projekt für die Gruppenausstellung SET IN MOTION
20 Jahre Kunstraum Innsbruck 2015/16


Seráafia/Replacement 12 / Part 2
Project for the group exhibition SET IN MOTION
20th anniversary of the Kunstraum Innsbruck
Seráafia/Nachfolgerin 12 erzählte in diesem Projekt von ihren Aktivitäten aus dem Jahr 2474.
Seit vielen Jahren herrscht Winter, das Leben der Menschen spielt sich im Innenraum ab, in perfekt inszenierten Erlebniswelten. Seráafia hört davon, dass in den Bergregionen die Sonne manchmal zu sehen sein soll ― sie wagt sich ins Freie, es hat um die minus fünfzig Grad ...

Die anfängliche Wandinstallation im Kunstraum wurde im Lauf der Ausstellung durch Texte und Arbeiten von Seráafias Suche nach der Sonne erweitert. Im Raum hörte die Erzählung damit auf, dass sie in den Bergen auf Menschen trifft, die freiwillig am Rand der Zivilisation leben. Fasziniert bricht sie auf und mischt sich unter sie ...

Die Fortsetzung der Geschichte ist das Kapitel "Das große Wunder oder die Akzeptanz der Endlichkeit" aus dem Zyklus "Lost to regain"
Please scroll down for the english version.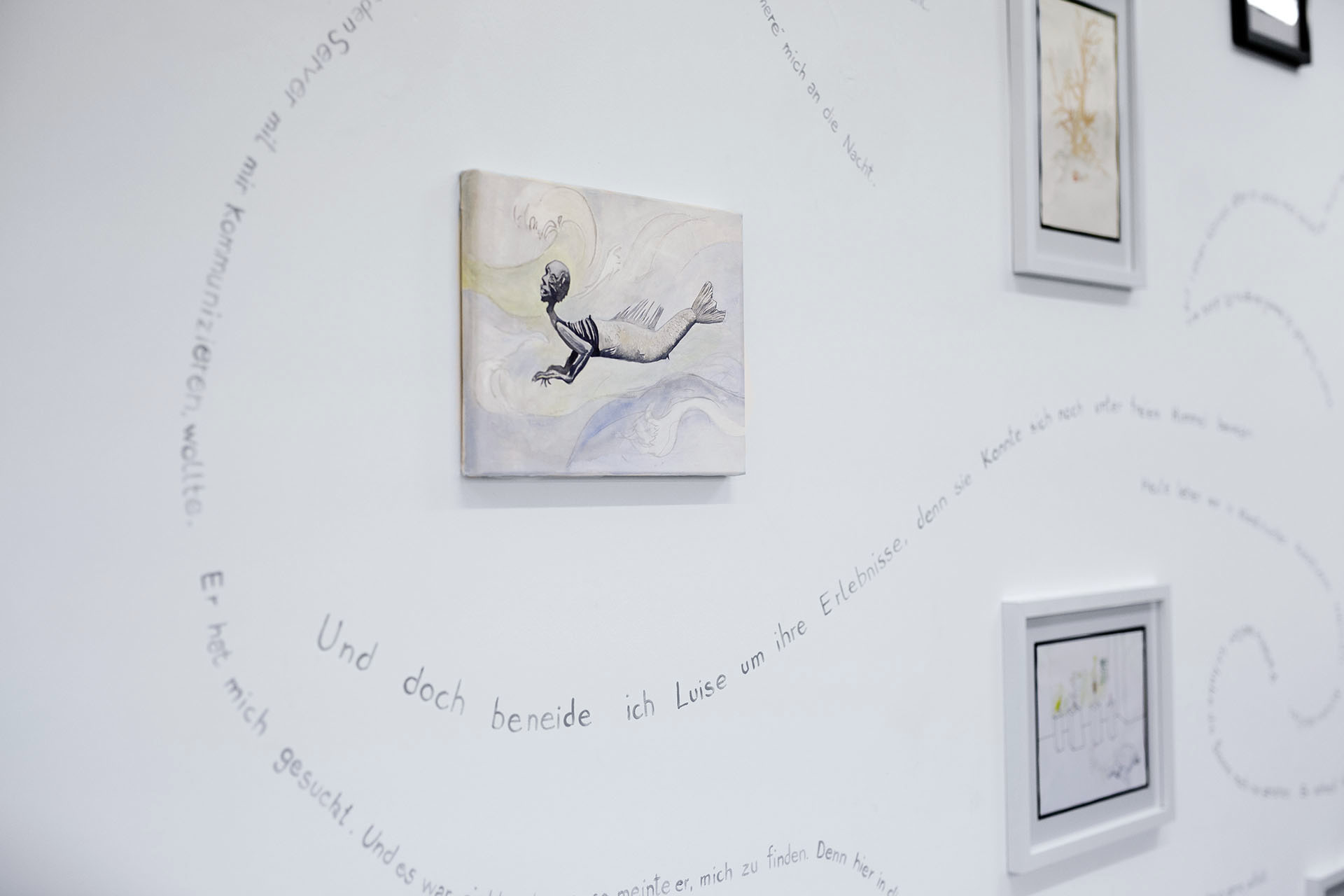 Ausstellungsansicht / Exhibition view Kunstraum Innsbruck